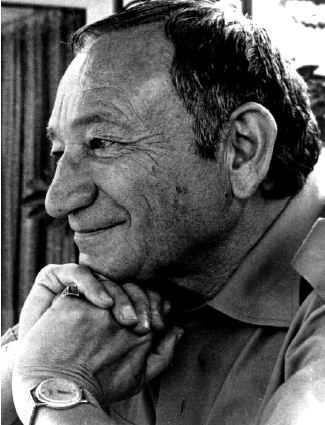 How does one set out to adapt one of the most widely-read and highly-regarded classics of Western literature? Miguel de Cervantes' novel, published in two parts between 1605 and 1615, is regarded as the first modern novel, and its author is frequently ranked alongside his contemporary William Shakespeare as one of the greatest writers in history.
Below is an excerpt from a 1997 interview with the show's book writer, Dale Wasserman.
What attracted you about the figure of Don Quixote?
It happened by pure accident, actually. I was in Spain writing a movie when I read in a newspaper that I was there for the purpose of researching a dramatization of Don Quixote. That was a laughing matter because, like most people on earth, I had not read Don Quixote, but Spain seemed just the right place to repair that omission. So I waded into the novel and came out on the other side of a half-million words convinced that it could not be dramatized.
And why was that?
It's simply that it covers too great a spectrum of possibilities. One could take a section of it, perhaps, but it's a protean work. It is all things to all people and I thought it is a little like trying to pour a lake into a bucket. It's simply too massive to compress.
And how did you proceed at that point?
I got interested in its author, Miguel de Cervantes. I ran across one fact which immediately attracted me and set up a possible affinity. That is, he was first and preeminently a man of the theater—he was a playwright, he was an actor, he was a man who went on the road with his shabby little performing troupe. He wrote thirty to forty plays, perhaps more, none of which were considered to be very good. But, in his love for the theater, his passion for it actually, he never really wavered. And this is what gave me the idea—write a play about Miguel de Cervantes, and blend or cross-fertilize his creation, Don Quixote with his own personality, his own life. Just possibly, then, one could have something approaching a dramatization.
---
The Impossible Dream
And the world will be better for this
That one man scorned and covered with scars
Still strove with his last ounce of courage
To fight the unbeatable foe, to reach the unreachable star!
Even if you've never seen Man of La Mancha, you've probably heard the song The Impossible Dream.
Recorded on the original Broadway cast album by Richard Kiley, the song has since been covered by countless artists, including
Frank Sinatra
,
Elvis Presley
, and
Cher
. Screen legend Christopher Lee even recorded
a heavy metal version
for his 2014 album
Metal Knight
!
What's your favorite version of
The Impossible Dream
? Head over to our
Facebook
or
Twitter
to let us know!
The 1967 Red Sox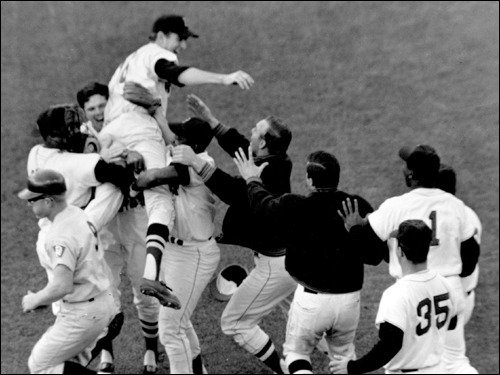 The song also holds a special meaning in Boston, thanks to its association with the 1967 Red Sox.
Having not played in a World Series since 1946, and having finished in second-to-last place the year before, the Red Sox' historic journey to the American League pennant was dubbed The Impossible Dream by the Boston Globe, and the track was adopted as a theme song by both the team and its fans. Although the team ultimately lost to the Cardinals, the excitement built over that season reinvigorated Boston's relationship with baseball.
"There's never been anything like it," sports photographer Frank O'Brien told The Boston Globe this year, in a feature commemorating the Impossible Dream season's 50th anniversary. "Absolutely the most important year in the history of the Boston Red Sox."